A toolbox to no one leave behind in fighting poverty and inequality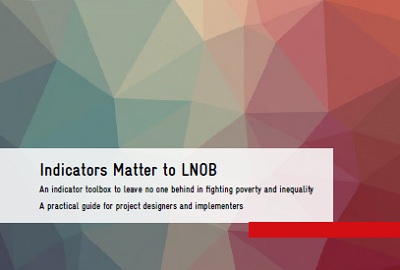 We were pleased to present "Indicators Matter to LNOB – An indicator toolbox to leave no one behind in fighting poverty and inequality" at a recent OECD workshop.
The user-friendly toolbox includes 5 simple steps and 5 tools for good LNOB, poverty & inequality indicators and is relevant for project designers and implementers.  It contains indicator examples from various sectors, practical recommendations and reflection questions for practitioners.
The practical toolbox & guide are the outcome of a study commissioned by BMZ/GIZ and written in close collaboration with SDC. Our HSD consultant, Franziska Denz, was the main author of this toolbox and conducted the underlying research.
You can access the toolbox and practical guide on LNOB, poverty and inequality indicators here: https://www.poverty-inequality.com/project-cycle-toolkit/
We encourage you to have a look!