Eastern Europe & Central Asia
The countries of Eastern Europe and Central Asia have seen enormous change over the last 25 years. They have undergone substantial structural transformation in both the public and private sectors and have developed market-oriented structures. These changes have had a significant impact on the people in these regions and their personal situations, creating opportunities as well as challenges and establishing an environment where new ideas can flourish.
The prospect of accession to the EU and of advanced regional cooperation contributes to ongoing sustainable development and the further enhancement of living standards in these regions. GOPA Consulting Group has been active in Eastern Europe and Central Asia for 25 years, contributing to the transition processes in many sectors. We have built up extensive expertise with regard to development issues in transition economies and gained
access to a large network of qualified local specialists and experienced partner organisations. Although at different stages of social-economic and political development, pre-accession countries in Eastern Europe, along with countries in the Eastern Partnership and Central Asia, have achieved political stability and significantly improved the social and economic situations of their citizens and this progress is reflected in the enlargement policy of the European Union.

GOPA's history in the Eastern Europe & Central Asia
The GOPA Group has a long history of implementing projects in Eastern Europe and Central Asia, with a total of 309 projects successfully implemented since 1999. With regional representatives and offices in Serbia, Romania, Georgia, Kyrgyz Republic and Tajikistan, we are positioned close to the market and can offer tailored solutions based on local needs. Our professional interaction with all stakeholders allows us to adopt a concerted, cross cutting approach that, when combined with local expertise, makes us a respected partner in these regions.
Presently, we have 39 projects up and running in 14 of the region's countries, with a geographical spread that has been detailed in the figure below. As is the staple of the organisational capability of the GOPA Consulting Group, our operationa capacity addresses projects spanning all service lines.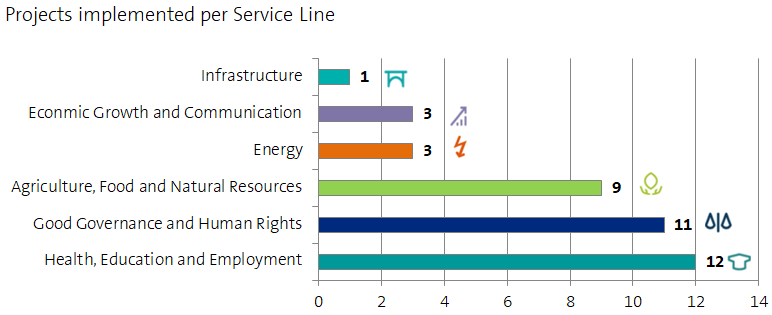 Current projects
Good Governance and Human Rights
Economic Growth and Communication