Asia has experienced impressive economic growth and increased domestic demand over the last years. However, despite considerable economic growth rates, still 2/3 of the world's poor live in Asia. To sustain growth and to ensure an equal and inclusive social, human and economic development process, Asia now has to address newly emerging issues. These include: ageing societies, rising inequality, and rapid urbanisation. Additionally, environmental degradation is an enormous challenge that may impede Asia's development in the future. 
The economic development in Asia is a key motor for our global development trends and transformation processes, particularly in trade and legal rights, paving the way for change. GOPA Consulting Group is proud to have been part of Asia´s dynamic development process in the past and remains committed to assisting Asia with its development challenges in the future. As many of the Asian countries 
are particularly vulnerable to climate change and natural hazards, policies will have to focus on environmentally sustainable development. To assist inclusive growth, the GOPA Consulting Group is able to provide services in all sectors of technical cooperation, addressing the challenges mentioned above, as well as such as climate change, green growth, energy efficiency and social inclusion.

GOPA's history in Asia & the Pacific 
GOPA Consulting Group has worked in Asia ever since our pioneer years with our first projects in Pakistan. Over time, we expanded significantly in China, Mongolia and Afghanistan and gained experience across the continent, from Timor-Leste and Cambodia to Bangladesh and Vietnam. 
In 2018, the GOPA Consulting Group is implementing 78 projects in all sub-regions of Asia in various sectors. 19 projects are multi-sectoral and cover more than one service line.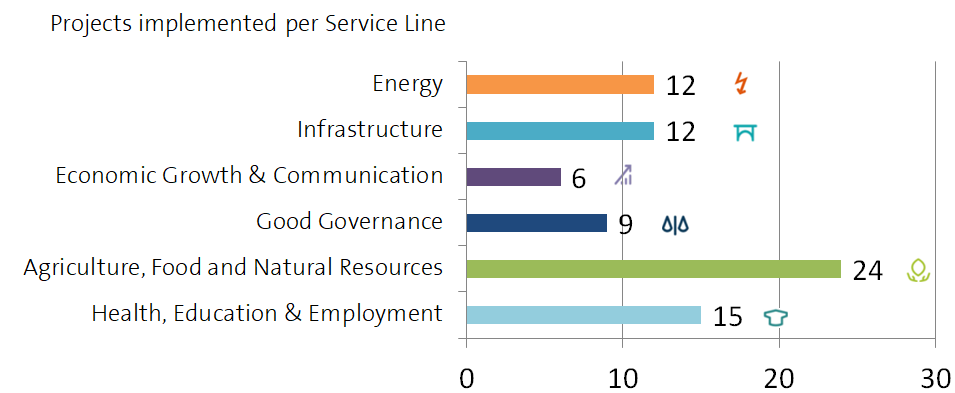 GOPA Consulting Group is a key performance partner in Asia, and the region represents an important and growing market for the group, generating about 36% of its turnover. Working with regional and national organisations, we have established a reputation for solid implementation of large and complex projects and programmes for a variety of donor organisations.
Current projects
Health, Education and Employment