Preventing and Combating Oganised Crime and Corruption
In a nutshell
Over the last decade, the Former Yugoslav Republic of Macedonia (FYROM) - the name change is currently still pending- has carried out major reforms in its judicial system, law enforcement, and in the public administration. Although some progress has been made since, a lot still has to be done in order to: combat the increased number of organised criminal groups; increase the prosecution of high-level corruption cases; and address the rise of cybercrime.  
Building on its extensive (25-year-) experience with Security and the Rule of Law programming, GOPA Group's B&S Europe is well-equipped to aid with strengthening FYROM's law enforcement agencies to fight against organised crime, as well as improving the institutional mechanisms and networks to combat corruption.    
Our approach
In order to foster key aspects of FYROM's Security and Rule of Law governance and to meet EU standards in these areas, a two-pronged approach has been developed, with a prevention component addressing corruption, and a capacity-building module targeting organised and serious crime – including cybercrime.  
As corruption not only undermines the functioning of governing systems but also their legitimacy, it is important to ensure that law enforcement and supervisory bodies are able to carry out their operations in an autonomous and independent way. One way this project tackles this, is by redesigning the regulatory framework on supervision and subordination, distribution of operational competences within the Public Prosecution Offices.                   
The best way to combat organised- and cybercrime is through prevention, which means that increasing preparedness is central to the second component of the project. This is, inter alia, built on the improvement of cooperation of relevant institutions, training of law enforcement, and the development of new methodologies and best practices for relevant institutions.   
Programming for results
The benefits of this project will be noticeable for several beneficiaries, which include the Ministry of Interior and the Ministry of Justice, as well as associated institutions, such as prosecution and customs offices. Most importantly, it is important to keep in mind that the final beneficiaries of this project are the citizens of the FYROM, who deserve transparent and well-functioning law enforcement and justice systems guided by solid security policies.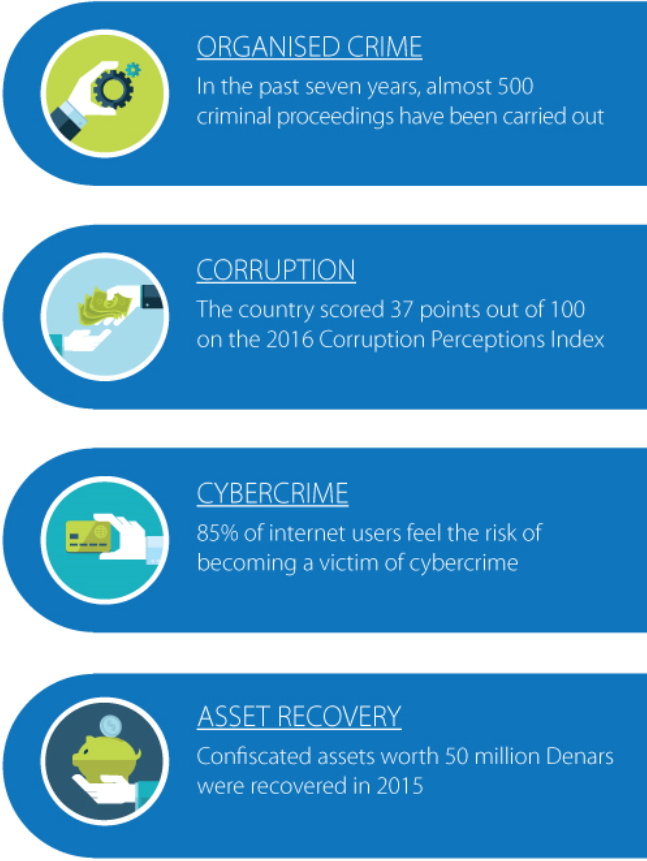 Good Governance and Human Rights